With a global epidemic of childhood inactivity and obesity, one of the pressing challenges of our time is how to inspire and motivate young people to get physical.
Well, help just arrived in the form of The Avengers, Marvel's blockbuster super hero characters, who have joined forces with the creators of Les Mills' BORN TO MOVE™ children's programming to make a difference.
The result is a specially created five-minute workout for kids, "Move Like The Avengers", featuring Marvel characters Thor and Black Widow – played by Bas Hollander and Diana Archer Mills from Les Mills – leading a fully choreographed exercise routine incorporating live action, animated graphics, sound effects and cool music.
Watch the "Move Like The Avengers" workout here.
Timed ahead of the release of Marvel Studios' Avengers: Endgame (in cinemas from April 26), "Move Like The Avengers" is an action-packed combat-themed routine designed specifically for children aged 8 to 12.
"The music and moves have been carefully choreographed, but getting active and having fun is the number one priority," says co-presenter and Les Mills Creative Director Diana Archer Mills. "It is guaranteed to be an uplifting experience – children can enjoy the thrill of mastering new skills, and as a result their confidence grows, and it fuels their appetite to learn more."
Helping young people to fall in love with fitness is the main goal of BORN TO MOVE. By harnessing the proven excitement of Marvel's Avengers characters the free workout will appeal not only to kids themselves, but to parents and teachers wanting to inspire and motivate their families and students.
And the need has never been greater, as the developed world statistics make clear:
Only one in four adolescents gets the recommended amount of daily physical activity.
Young people aged 8–18 spend an average of 7.5 hours a day using entertainment media.
More than 200 million school-age children are overweight; 40 million are obese.
Today's children may be the first generation to have a shorter lifespan than their parents.
As Master Trainer and one of the developers of BORN TO MOVE, Bas Hollander, says, "Here at Les Mills we're all about creating a 'Fitter Planet', and the next generation plays such an important part – perhaps the most important part – in striving for this mission. If we find ways to instil good exercise behavior, as a society we will gain so many benefits."
Which is why the collaboration with Marvel makes so much sense, says Janine Phillips, Les Mills Creative Director for youth progamming. "It reaches more children, inspires them in a very dramatic way, and combines their innate imagination with great movement. The challenge to 'Assemble' and move with the Avengers will not leave a child sitting on the couch – imagine actually feeling and moving like a super hero for five minutes!"
Those sentiments are echoed by Diana Archer Mills, herself the mother of four children. "As a mother, I just feel so much joy knowing that my children will all LOVE doing these releases – they will love feeling the fun and power of movement. And I know children all over the world will love it. BORN TO MOVE is phenomenal and now we've combined it with one of the coolest, most magical companies on the planet … how could this not be a good thing?!"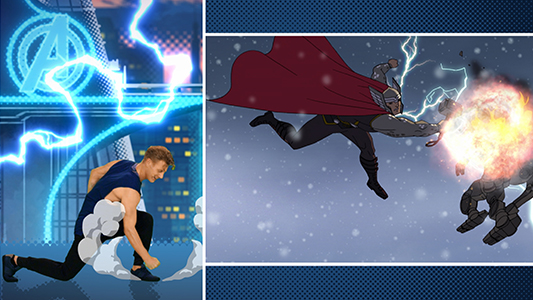 Find out more at www.lesmills/Avengers